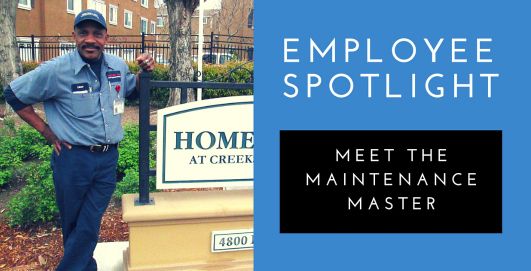 At the Lewis Group of Companies, we view our employees as our biggest strength. Our Employee Spotlight series offers a brief glimpse into our team of excellent co-workers. Hear from them, in their own words, about what it's like to work at Lewis.
This month, we are featuring Linus Antoine. Since 2004, Linus has been one of our Apartment Maintenance Technicians in Northern California. Linus' colleagues and managers have great things to say about him and the resounding message is that everyone considers Linus a 'team player'.
Highlights from Linus
What's your role on the Lewis team?
My role is to do quality Lewis Apartment turns to get units in the best shape possible and ready for move in.
What are you most passionate about in your Career?
I'm most passionate about providing the best customer experience, taking a lead role in making sure that we all work very hard every day and we do what we say we are going to do.
What's one thing no one would guess about you?
The one thing that no one would guess is that I played College Golf at Southern University in Baton Rouge, Louisiana and I still play a lot of golf to this day.
What keeps you coming to work at Lewis?
What keeps me coming to work at Lewis is the wonderful staff here at Homecoming at Creekside. I am the happiest I have been in a long time. It's just a great Company to work for.